Keendoo is the winner of the 2023 CFIA Innovation Awards, in the Environment category. This prize rewards a new solution that combines consulting and software to prepare the environmental display and facilitate the eco-design of products.
During the CFIA, Keendoo received the trophy for the Ko2mpact® solution, co-developed with its partner O2m. The competition this year was high with 100 candidates, 12 nominees selected by a jury of 20 food industry experts.
A solution to calculate the environmental impact of food products
This solution, which is new on the market, enables manufacturers to meet the new regulatory and commercial requirements imposed on the food industry, and supports the company's CSR strategy. A particularity: it combines advice and support by O2m, and easy-to-use software. It aims to make manufacturers autonomous in measuring the environmental impact (using the LCA method) and calculating the Eco-score of their products, from their own data consolidated in an internal product reference system. No need to send data to experts and wait for results for several days or weeks.
Results in real time
The composition of the products can represent up to 80% of the environmental impact. The approach then consists in acting on the recipes and the choice of raw materials (production method, distance, label...). All the teams that contribute to product development are involved: CSR, marketing, R&D, purchasing, packaging, quality, etc.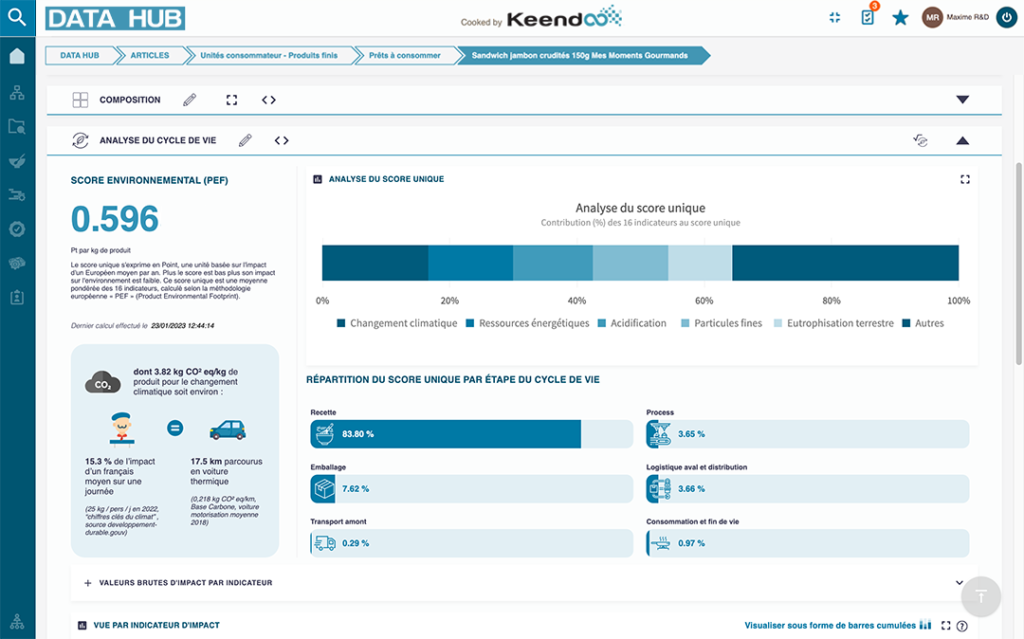 Industrialize specific environmental display calculations
The environmental impact score of products, obtained by LCA (Life Cycle Assessment) methodology, is the basis for calculating the environmental display of products. The Eco-design module of the Keendoo PLM suite, and the KO2MPACT® solution, make it possible to massify LCA score calculations closer to the reality of products, and to calculate the environmental display (levels 2 and 3) of the display proposed by ADEME, as soon as the calculation rules have been consolidated. The calculation method is expected to be available in autumn 2023, for deployment in January 2024.