Composition, regulatory labelling, nutritional and environmental scores, origin of ingredients, recyclability of packaging, sorting instructions, etc. Food manufacturers must master more and more data to satisfy regulatory and commercial requirements and meet consumer expectations. Ensuring the reliability and consistency of product data has become a strategic issue for the food industry in recent years.
How much data to manage for one product?
More and more data are needed to characterise food products and their components.
New regulatory requirements (INCO, Agec, etc.), commercial requirements (product sheets), consumer requirements (origins, labels, scores, etc.). The departments that contribute to product development, modification and updating have more and more data to manage.
More than 1,000 pieces of data characterise a product, or even more for complex products.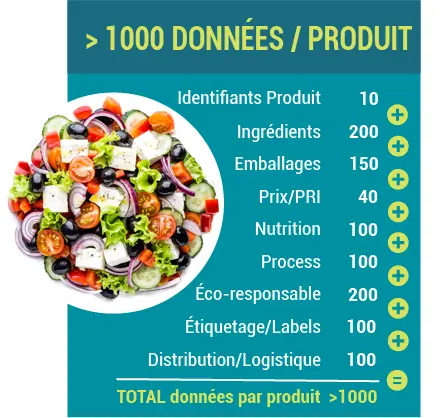 Where are they?
In the ERP? Yes, for management information.
In mailboxes? Yes, for project follow-ups and labelling declarations, proofs, packshots, etc., as attachments.
In the employees' computers or on the servers? Yes, for product briefs, Excel formula files, PRI calculations, visuals, product sheets, etc.
In files, folders? Yes, for analysis bulletins, supplier documents (data sheets, SDS, allergen declarations, certificates, etc.).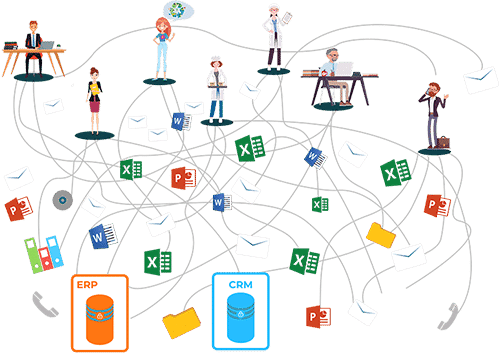 Product data is everywhere in the company: each department holds and manages part of the product data. Is it reliable, up-to-date and consistent?
How to collect and structure product data? In a shared and secure repository
The Keendoo product repository collects and secures product data, manages history and versions. It is the company's reference information system for national and private label product data. Shared between the departments, everyone contributes to feeding and maintaining this repository to ensure the reliability and consistency of product data.
" Before, departments spent a lot of time looking for product information, files, and sending emails to each other to get them. If a colleague was absent, we had to wait until he or she returned to get it. It was sometimes complicated to check inconsistencies from one department to another, to track updates, to identify the right version.

Now all the data is in Keendoo, linked to finished products, semi-finished products and articles, easily accessible thanks to the classification plan by type, family and product portfolio. The advanced search functionalities display the products corresponding to the searched criteria, which we could not do before. And our Quality Manager is more confident about audits: everything is up to date, accessible and easily viewable (product sheets, certificates, technical sheets and other quality documents).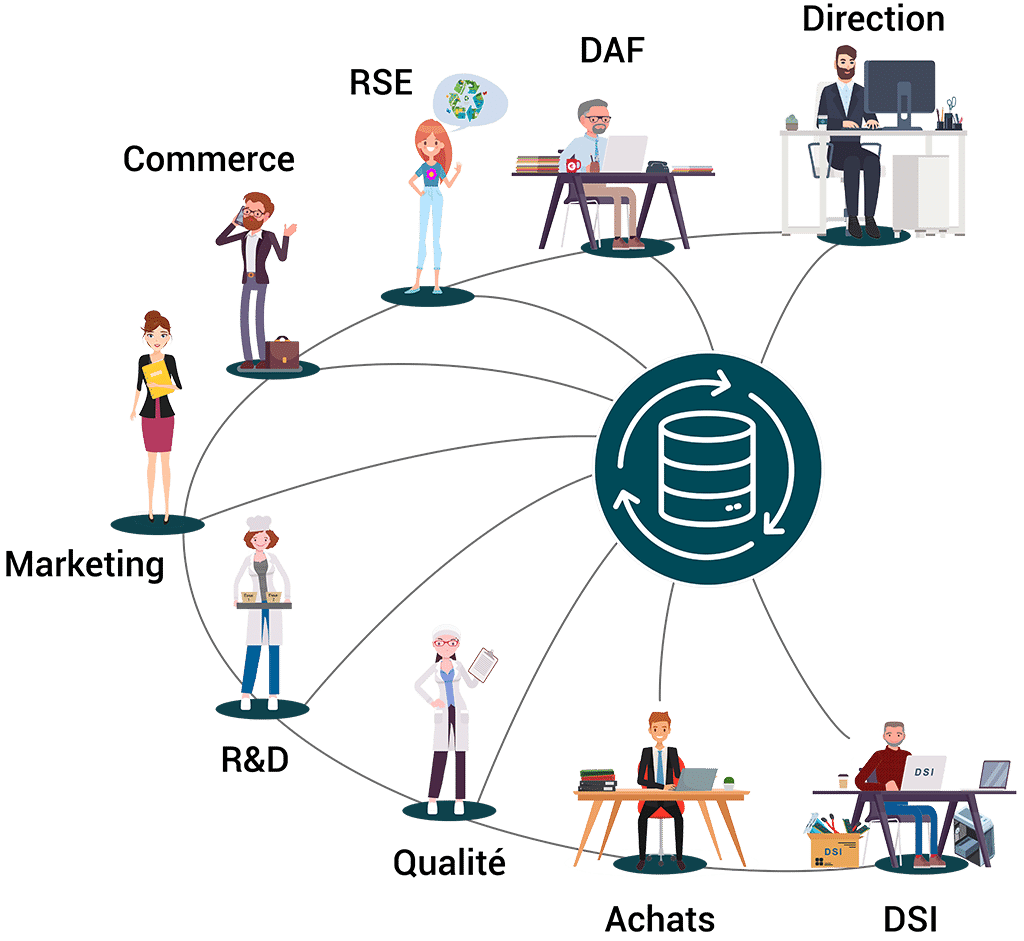 Collaborate to keep the repository alive, ensure the updating and reliability of the data produced
Centralised, structured and shared, all departments contribute to creating and updating this data according to the rights granted. Product data is controlled, up to date and consistent with each other.
It is thecommon base for all the modules and is the first brick of the Keendoo PLM suite: project management, sustainable development, formulation, packaging, sourcing, complaints, non-conformity and publication modules. It is a valuable tool that consolidates all the data to calculate the LCA of products.
Keendoo, a unique and complete PLM+MDM+PIM solution, secures product data throughout their lifecycle, keeps version history, and makes product sheets reliable.
Disseminate consistent, controlled, secure product data
The Keendoo solution allows you to automatically generate product sheets, in as many models as you wish (national brand product ranges, private label products) and in different formats (PDF, Excel, Word), to be configured.
With collaborative validation processes, each department contributes to the control of data and the systematic updating of product sheets.
This data can then be distributed to third party information systems via the Publication, PIM module of the Keendoo suite.
The Keendoo PIM applies a pre-check of the standard GS1 product sheet data, thus ensuring the conformity of the data to be distributed to the GDSN electronic catalogues (Equadis, @GP, TX2, Alkemics, Agena 3000, etc).
Product information is then consistent, homogeneous and easily updated on all displays.