Kantar forecasts a 15.7% annual increase in eco-responsible products by 2026: ready to accelerate the eco-design of your products?
Eco-responsible product innovation is becoming a strategic issue for food manufacturers. Life cycle analysis, eco-design, environmental labelling, Eco-score® and others to come, are based on product data. Mastering it is becoming essential to accelerate the transition to eco-designed products. Solution: structure product data and build with Keendoo a reliable, up to date and coherent product repository.
Beyond the regulatory constraints linked to environmental issues, more and more consumers will prefer eco-responsible products, according to the Kantar study Who Cares, who does Kantar study, conducted among 90,000 people in 26 countries (June 2020 to May 2021). According to this study, the growth rate of these products should be 5 times faster in the next five years.
"Eco-engaged consumers drive growth for brands that adopt sustainable strategies. [...] creating competitive advantage through a sustainability strategy is a major opportunity for brands. "

Guillaume Bacuvier, CEO of Kantar's Worldpanel division
via LSA Green (25/10/2021)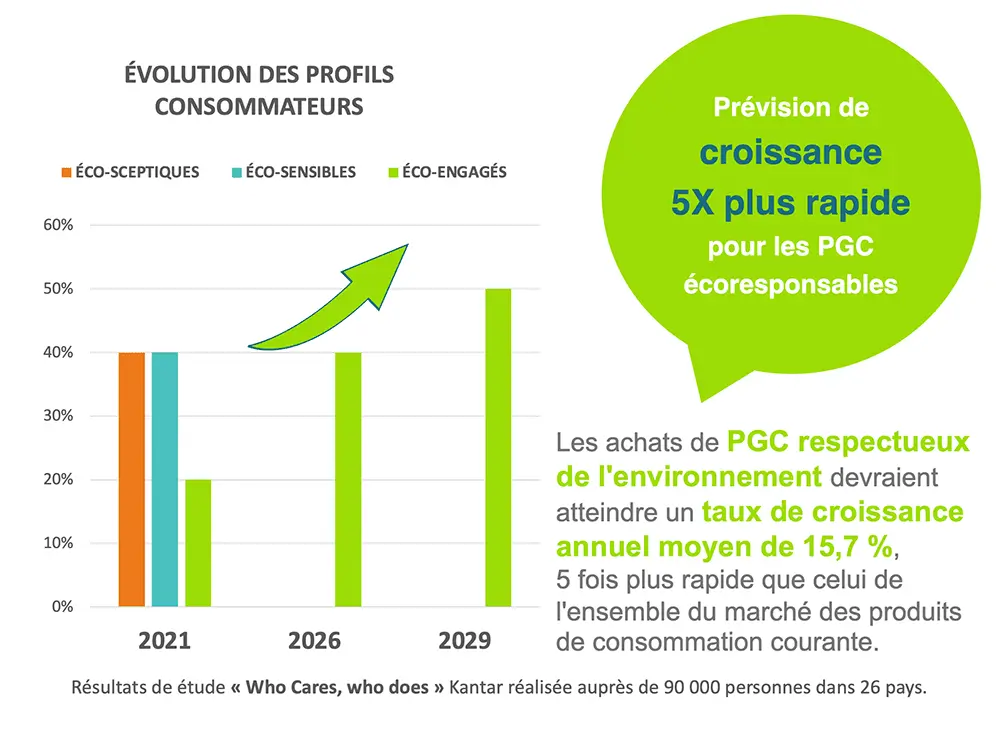 The changes in consumption are already underway, while the organic sector is beginning to run out of steam, sales of eco-responsible products are increasing. The results of the Max Havelaar Food Transition Barometer 2021 reveal that 90% of French people buy this category of products at least once a month, or even once a week for 66% of them.
"The enthusiasm of the French for responsible products was not a flash in the pan! [...] There is a cultural anchoring and an understanding of the issues at stake, particularly the social issue, the interest of the producer"

Blaise Desbordes, CEO of Max Havelaar
via LSA Green (18/11/2021)
According to this study, the majority of sales are made in supermarkets, which would help stabilise their use. Distributors have an interest in favouring products with a lower environmental impact on the shelves, private labels or national brands. The food industry's commitment to sustainable development meets a strong expectation, and could have an increasing influence on commercial negotiations with supermarkets.
Controlling data in a product repository
s :
essential to seize this growth opportunity
To improve the environmental impact of its products, it is necessary to know what it is. Any eco-design approach begins with an analysis of product data, in order to define it product by product, range by range. Called life cycle analysis (LCA), it is based on 16 criteria. It is necessary to start by gathering, checking and consolidating this product data in order to identify the levers for innovation with a view to reducing these impacts.
Keendoo gathers this data in a repository of reliable, up-to-date and consistent product data, and offers a suite of functional modules that exploit this data to accelerate eco-responsible product innovation: formulation, project management, packating... The Development module allows the calculation of the Eco-score®, and those to come.
Product data needed for the ecodesign of food products
Year after year, more and more data is required to qualify an agri-food product, from the nature and origin of the raw materials that make it up to the complexity of the packaging, to the consumption of the product and the management of the waste it generates. All this information is distributed and duplicated in all the company's departments: is it reliable and up-to-date?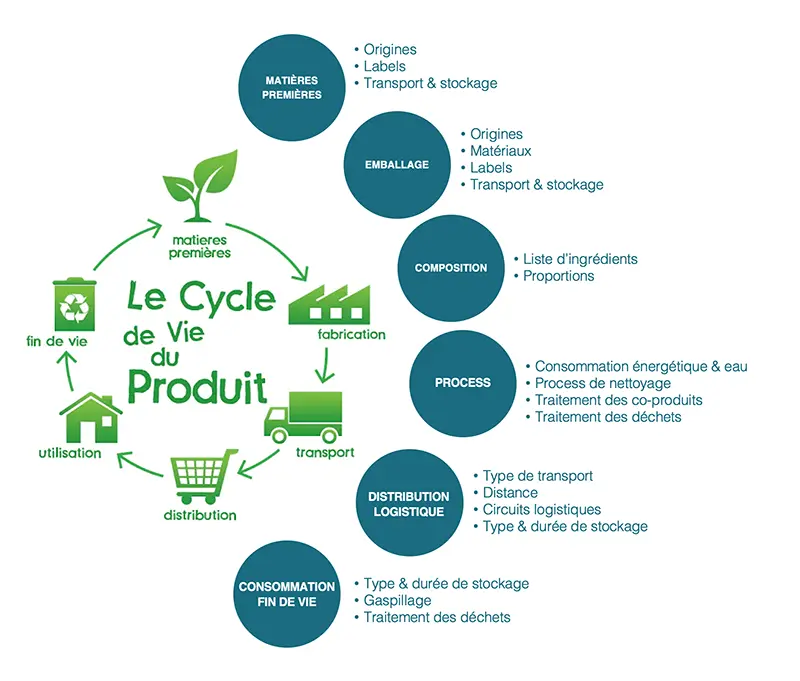 " Before, it took several days to collect, control and consolidate the data needed to do the life cycle analysis of a single product. Now it's all in Keendoo, we focus on the analysis and the search for solutions. Once the levers of action have been identified, we can simulate their impacts and identify the most relevant ones in our eco-responsible innovation approach. "

Claire, eco-design consultant
ofO2M Conseil, impact engineering - CSR