Keendoo expert in product data in the food industry
KEENDOO is a provider of IT solutions exclusively for the food industry.he food industry. Its genesis comes from the intuition in 2010 within VIF (specialist in A.I. for forty years) that environmental labelling was coming. In 2011, there was a sudden halt. Bertrand Vignon, the founder, was convinced that the subject would come up again one day, based on reliable product information. Then came INCO, Nutri-score®and now come the Eco-score® or other environmental labels, the Agec law, the climate law... All have one thing in common: control of product data.
Today Keendoo has about twenty engineers, with a deep and historical historical and deep involvement in the food industry.

Bertrand Vignon
CEO Founder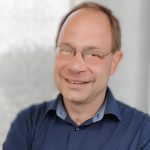 Jean Bressoud
Director General
Keendoo consultants, all agri-food engineers, rely on their experience in the industry to assist customers in the analysis of their needs, the implementation and the use of the Keendoo software suite.
The team of developers is constantly developing the Keendoo software suite to integrate the latest constraints or requirements imposed on the food industry: regulations, new scores, etc.